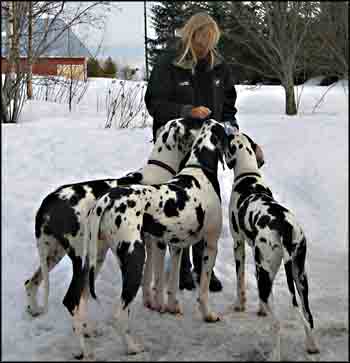 Olen Sari Ahosola ja asustelen tanskandoggieni kanssa Oulussa. Tällä hetkellä (2009) kotonani on neljä harlekiinia, kolme narttua (Claudia, Seita ja Hertta) ja yksi uros (Nasse). Nasse on Englannin tuonti ja hänen taustalta löytyy mm. Ravendane-sukua.

Doggiharrastukseni mustien ja harlekiinien parissa alkoi v. -91, jolloin ensimmäinen doggini Dora (Black Terminators Afrodite) tuli elämääni. Jouluna -92 Dora sai kaverikseen harlekiiniuroksen Picasson (Atletan Picasso). Kasvattaminen alkoi kiinnostaa ja v. -95 minulle myönnettiin kennelnimi Anxious.

Samana kesänä syntyvät ensimmäiset pennut Doralle, isänä upea Sajonne Dan Dappled. Tästä pentueesta tuli myöhemmin kolme Suomen muotovaliota: FIN MVA Anxious Woodstock, FIN MVA Anxious Wendela ja FIN MVA Anxious Winona (Luna), jonka omistan itse. Seuraava pentue syntyi v. -99 Lunalle, isänä menestynyt FIN&EST&LV BALTW-00 Hexenmeister Vegas. Näistä pennuista jäi itselle kasvamaan harlekiininarttu Claudia (Anxious Morning Glory) . Tästä pentueesta tuli muotovalioksi FIN MVA Anxious Monty Python.
Kolmas pentue syntyi marraskuussa 2001, lisätietoja vanhemmista C-pentueen sivulla. Jouluna 2003 syntyi neljäs D-pentue, josta kotiin jäi meidän iloksi harlekiinityttö Daami (FIN CH Anxious Dame Nature).

Kasvatustyössäni tavoitteena on laatu, ei määrä, joten pentuja syntyy kohtalaisen harvoin. Pyrin saamaan kasvateilleni puhtaat värit, terveet rakenteet ja liikkeet sekä tietysti mukavat luonteet.

My name is Sari Ahosola and I live in Oulu, Northern Finland with my Great Danes. At the moment (2009) I share my life with four Harlequins, three girls (Claudia, Seita and Hertta) and one boy (Nasse). Nasse is imported from England and in his pedigree you can find Ravendane-bloodlines.

My life with Danes started in 1991, when my first Dane Dora (Black Terminators Afrodite) came to my life. Christmas 1992 Dora got a companion of Picasso (Atletan Picasso). Breeding Great Danes started to interest me and in 1995 the Finnish Kennel Club permitted a kennelname Anxious for me.

The first litter was born in the following summer for Dora, bred with a gorgeous Harlequin male Sajonne Dan Dappled. Three Danes from this litter finished FIN CH titles later on: FIN CH Anxious Woodstock, FIN CH Anxious Wendela and FIN CH Anxious Winona (Luna), who is owned by myself.
Next litter was born in 1999 for Luna sired by successful Harlequin FIN&EST&LV CH, BalticWinner-00 Hexenmeister Vegas. I kept myself Harlequin bitch puppy Claudia (Anxious Morning Glory). From this litter finished Finnish Champion FIN CH Anxious Monty Python.
3 rd litter was born on November 2001, more details about parents at C-litters page. At the Christmas 2003 was born 4th D-litter, from which I kept myself a Harlequin girl Daami (FIN CH Anxious Dame Nature).

My goal in breeding Great Danes is the quality, not quantity, so I have litters only occasionally. I tend to achieve pure colours, healthy structures and movement and of course nice temperaments for all of my puppies.